ABOUT US
We believe in bringing nature home.
STOOPS Design was created out of a shared love for the seasonal shifts in nature. Founders Sarah and Cindy have always had a strong connection to the creativity that nature and gardening can evoke.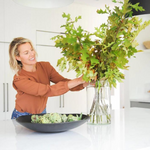 Sarah loves the business of design. She began her career in advertising and later co-founded the wedding planning and design company, Spread Love Events, with her sister. She grew up watching her grandmother and mother tend to their gardens, artistically bringing the outdoors into their homes. The delicate scent of lily of the valley brings memories of picking posies with her grandmother for tea parties.

Her memories also include the roses that adorned her mother's nightstand, freshly snipped from the garden. These rituals established a connection with flowers that Sarah transformed into her next creative venture. Today, designing and creating in her home and garden is a peaceful escape from Sarah's life as a busy mom of three boisterous boys. Her home has been featured in House and Home's 100 Best Rooms feature and Western Living magazine.
Cindy was raised on her family's Fraser Valley farmstead. There, she was fascinated by the changing seasons. She noticed how nature always delivered its bounty in the form of beautiful flowers, garden-fresh edibles and even the odd baby chick. After traveling the world for her airline career, she settled on Vancouver's North Shore to raise her two kids with her husband.

Today, Cindy's oasis from her busy life is her modern farmhouse, which was featured on the cover of Canada's Style at Home magazine. She still celebrates each season, bringing in bunches of flowers and branches to beautify her home.